Our BIBA is now on tour, visiting all 6 of our clinics in 6 months, spending time with all of our amazing team who helped us pick up the award for Professional Services Business of the Year. This last few weeks she has spent her time at the Bolton clinic with lead physiotherapist – Karen, Debbie our customer service advisor and David, our newest physio at the clinic. Karen took time out of her busy clinic schedule to tell us what it means to be a part of Physiofusion and the award winning team.
Much excitement this week at the practice as we have received our very own 'Oscar' statuette, which is now in pride of place on the reception desk. The lady in question is in fact the prize from the recent BIBA business awards, won by Physiofusion in the 'service excellence' category, and very proud we are too.
BIBA stands for ''Be Inspired Business Awards'' and the service excellence category is often populated by professional industries such as solicitors or accountancy practices, so for a private physiotherapy company to have succeeded in this arena is outstanding.
I'm using the word 'outstanding' because that's what I believe Physiofusion is; a group of practices whose clinicians always strive to do the best for their patients, and go the extra mile. How do I know this? Well because this time last year, I became a part of the Physiofusion family, and those standards were exactly what I had based my own practice at Bolton Therapy Centre on, for the previous 20 years.
Good clinical skills and reputation are often what brings patients to a practice in the first place, but what makes them return the next time they have a problem is the trust and rapport which that physio engenders in the way they treat their patient; the confidence to know that their physio understands the issue and only has their best interests at heart.
For myself, having built my practice up over 20 years, and having those kinds of trusting relationships with some of my longstanding patients, it was imperative that I find a company with the same ethos to continue running my practice whilst enabling me to still work part time doing what I love. One year in, I'm confident that Physiofusion and I are a good fit, and that together we will continue to provide excellent service to local people.
Of course, it's not only about support for patients; to work effectively you also need to feel supported as a practitioner, and Physiofusion set great store by regular in service training sessions, given both by outside experts and by our clinicians with a special area of expertise sharing their knowledge with the group.
As pressure on our NHS colleagues increases, it is often not possible to explore the wider issues affecting health and fitness with patients. At Physiofusion, we have the time to discuss wider issues affecting patients' health, such as diet and exercise, self-management strategies and coping mechanisms, all under one roof. The Chartered Society of Physiotherapy's motto is 'Live longer, live well' and that's what we aim to help you to do – to be the best you can be.
Karen Willcock – Lead Physiotherapist, Physiofusion Bolton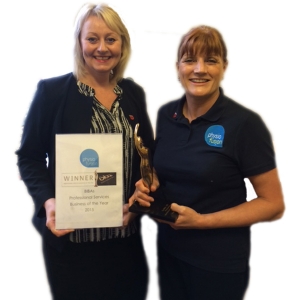 Debbie & Karen with the award