Continuing our BIBAs tour around all of our clinics, BIBA is currently in Padiham as some of you might have already seen. Clinical Director, Sam House, tells us more of how the Physiofusion and 'Karmic Multiplication' philosophy became a reality…
Once upon a time – a Physio with high ideals, bags of care and a naivety that stopped her realising how hard it was going to be to make it happen – had a dream of 'Karmic Multiplication'. This is to say, she felt that she had so much to give with regards the skills she had but not enough time to share them with enough clients.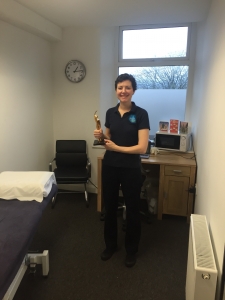 Her ideals were for thorough assessment to diagnose the injury, smart thinking to realise why the injury had occurred in the first place, plenty of skills to know how to treat it and enough sense to know that you have to tell the injured party everything you have found so they know what is going on. From this was born a small clinic on Burnley Road in Padiham called Physiofusion…and I feel very proud of our origins.
Today we have 6 clinics spread across the North West and have moved our Padiham clinic just a few doors down from its original location into a purpose designed building with modern facilities that serves the local people of the town (and those that choose to travel far and wide to us).
Karmic Multiplication came to me early in my career when I realised that I can do a good day's work helping people 'get fixed' but that it would help much more people if I helped other Physios also do the same.
~Help x More Physios = Karmic multiplication~
I live by this every day and believe it more than ever, in a culture that's doing everything quicker, arguably with less assistance and caring element too.
2015 saw us win 'Professional Services Business of the Year Award' in a prestigious event. As much as I get, and so do all my fellow therapists, our rewards from seeing you guys get better, it feels like we are being seen by others that we are doing this well. That to me shows we are doing it consistently, effectively and sustainably. These are very 'businessy' words for a Physio to use but without these traits, again, I cannot grow my clinic to provide my Karmic Multiplication and help more people, more effectively, more often.
Back to Padiham…where it all began. The local community has been very loyal to us and we hope they feel we have reciprocated that. Padiham folk are good honest, hardworking folk and lots of them work long hours, a lot of them self-employed. It's really important today that people feel secure in their jobs and that includes keeping them fit enough to work.
2016 will see Physiofusion invest in growing Padiham's clinic to allow for more infrastructure and the possibility of more rooms for us to treat more clients. The battle will never be won as Karmic Multiplication can never be enough…so we'll keep growing as much as we can and helping as many as we are able.
Good health to you all.