The relief of back pain starts with our expert physiotherapists understanding the cause of the problem and which part of your back is painful.
Bad backs come about for numerous reasons. Longer-term, or chronic bad backs, could be due to a slight difference in the length of our legs – which is quite common – and presents as pain in the lower back whilst pain in the upper back might be a result of postural issues. Acute back pain can come about from an injury after enthusiastically picking up a grandchild – they just keep on getting bigger don't they – or simply twisting awkwardly.
If your bad back affects the top, look at our "Neck, Shoulders & Upper Back" page. If the back pain relief you need is lower then see our "Lower Back & Pelvis" page.
Alternatively call us to book an initial assessment on 01282 453 110.
Or you could use our FREE Ask-A-Physio service to find out more.
See treatments for back pain and injuries below.
Marketing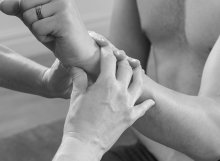 Physiotherapy is most commonly used to help and treat any musculoskeletal injury or disorder (in other words, joints, muscles, tendons, ligaments or similar).  This means that we treat acute injuries like disc bulges, whiplash, sprains,