Physiofusion can help you to keep your workforce healthy by treating employees either on-site at your premises, or by seeing workers at our clinics in Burnley, Padiham, Barnoldswick, Skipton, Bolton and Lancaster.
The advantages of having a healthy workforce are well documented and include increased productivity, lower staff turnover, reduced sickness and absence and an increased loyalty to your organisation.  All of these result in a higher level of profitability which is more sustainable than cost-cutting alone.
Services
We can provide Occupational Health services, such as physiotherapy services, return to work assessments, manual handling, ergonomic assessments and stress management services and can provide the following therapies on-site for your company (please see the individual treatment pages for more details on each therapy):
Marketing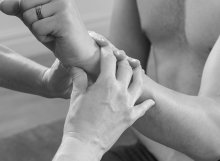 Physiotherapy is most commonly used to help and treat any musculoskeletal injury or disorder (in other words, joints, muscles, tendons, ligaments or similar).  This means that we treat acute injuries like disc bulges, whiplash, sprains,
The full range of physiotherapy and other therapies are available to your workers at our clinics.
We can also work with current Occupational Health providers to provide seamless bolt-on services for your company.