Ergonomic Assessments
Physiofusion can help you to prevent injury to your employees by providing more specific 'movement, layout and fit' advice for activities – more commonly known as ergonomic assessments.  It allows us to advise you on the best way to organise workstations to minimise the risk of back injuries for example, or how to have a tool bench constructed so that your employees are at their most physically effective and safe.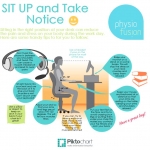 The Assessment Process
We send our Physiotherapists out to your business premises, as they need to see workers in their own environment and we travel anywhere in Lancashire, Manchester and Yorkshire.  We can see anything from 1 to 8 employees in a day and each employee will be asked detailed questions on their daily tasks as part of their assessment and be asked to demonstrate these.
Advice that is given is split into two sections – firstly, recommendations for the employer in terms of equipment (eg chair type) and task structure.  The second aspect is advice for the employee on how to improve their posture and function both with the current set-up, and for when any new equipment is approved.  A written document containing all of this information is provided to the employer.
Often, ergonomic assessments are linked in with manual handling training which we can also deliver.
A useful guide to ergonomics within the workplace can be found here on the Health and Safety Executive's website.
Please contact our Practice Manager on 01282 453 110 for more details on ergonomic assessments.