Hockey – I call this lethal game my hobby!
Call 01282 453 110 to book your appointment.
[one_full last="yes" spacing="yes" center_content="no" hide_on_mobile="no" background_color="" background_image="" background_repeat="no-repeat" background_position="left top" border_position="all" border_size="0px" border_color="" border_style="" padding="" margin_top="" margin_bottom="" animation_type="" animation_direction="" animation_speed="0.1″ class="" id=""][fusion_text]Many years ago, a time I struggle to even remember now, I sustained an ankle sprain at Hockey. This enlightened me to the world of Physiotherapy and my career path was established.
Recently I sustained my second ankle injury, again playing this lethal game. I thought my hockey "career" was over…that ball is quite hard, you know! I sustained two very different ankle injuries (a sprain and a strike by the ball) treatment for both were very similar, especially in the acute phase.
Ankle Sprains
A sprained ankle is the most frequent injury in sports generally. Inversion-type ankle sprains (where the ankle is twisted inwards) have been estimated to comprise of roughly 15% of all injuries sustained during hockey participation. A sprain refers to the damage of the soft tissue structures surrounding the ankle, mainly the ligaments. The most commonly injured ligament is the Anterior Talo Fibular Ligament (ATFL). As well as damage to the ligaments, the capsule which surrounds the ankle joint can also be damaged, this causes bleeding within the tissues and the ankle begins to swell and can be extremely painful.
Acute Ankle Injury Treatment
*If you suspect a potential fracture, do not hesitate, visit A&E*
In the first 72 hours of injury, treatment should follow the POLICE protocol (Protection, Optimal Loading, Ice, Compression and Elevation). This protocol differs from the previous RICE/PRICE protocol, where Rest has been removed. Often acute injury requires some rest, however long periods of immobilisation can lead to decreased muscle strength and flexibility which may delay your return to normal functional mobility and activity. Alongside POLICE, you may need to take pain-relieving medication, a local Pharmacist can advise you appropriately.
How Can Physiotherapy help?
Physiotherapy's aim is to speed up the healing process of your ankle and guide you to achieve your rehabilitation goal.
In the acute stage we can advise you on the correct protection for your ankle, direct you on optimal loading and start you on the necessary exercises for movement, strength, balance and proprioception. Other treatments available to you are electrotherapy, acupuncture, soft tissue release, the Geko Device, taping and gait & biomechanical assessment – where we may refer you to our Podiatrist. Depending on your rehabilitation goal we will work alongside you to be function/sport- specific.
The Scoop…
•Don't ignore your gut instinct, if you suspect a fracture – visit A&E
•Remember POLICE
•Wear an ankle support for about 1 year when playing your sport/activity following an ankle sprain – the rate of re-injury is 75% in the first year
•Don't be complacent with your injury, no pain doesn't necessarily mean the ankle is fully healed, the full healing process can often take up to two years. I'm not suggesting you'll be out for 2 years however, but do what you can in terms of rehabilitation in order to speed up the healing process and be sensible.
I can empathise! This was sustained on 5th December 2015 – I was back playing within 4 weeks by practicing what I preach!
[/fusion_text][/one_full][one_third last="no" spacing="yes" center_content="no" hide_on_mobile="no" background_color="" background_image="" background_repeat="no-repeat" background_position="left top" border_position="all" border_size="0px" border_color="" border_style="" padding="" margin_top="" margin_bottom="" animation_type="" animation_direction="" animation_speed="0.1″ class="" id=""][imageframe lightbox="no" lightbox_image="" style_type="none" hover_type="none" bordercolor="" bordersize="0px" borderradius="0″ stylecolor="" align="none" link="" linktarget="_self" animation_type="0″ animation_direction="down" animation_speed="0.1″ hide_on_mobile="no" class="" id=""]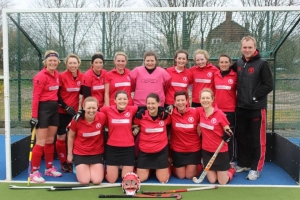 [/imageframe][fusion_text]Pendle Forest Sports Club Hockey Team. Kayleigh's on the back row far right (next to the chap)[/fusion_text][/one_third][two_third last="yes" spacing="yes" center_content="no" hide_on_mobile="no" background_color="" background_image="" background_repeat="no-repeat" background_position="left top" border_position="all" border_size="0px" border_color="" border_style="" padding="" margin_top="" margin_bottom="" animation_type="" animation_direction="" animation_speed="0.1″ class="" id=""][fusion_text]Kayleigh Vickers qualified as a Physiotherapist from St. Martin's College, Carlisle in 2007. She started working at Physiofusion in 2014 and works in the Burnley, Padiham and Barnoldswick clinics. Kayleigh plays midfield for Pendle Forest Sports Club where the team has just won the league and hope for promotion after play-off games.[/fusion_text][/two_third][fusion_text][/fusion_text]